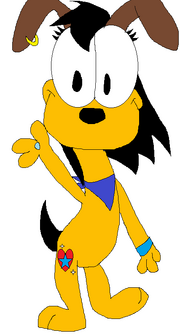 Brittney is a cartoon dog who is a character from J&D's series "Bugsly's Adventures in Furtown". She is has a crush on Rufus the Dog.
Appearance
Edit
Brittney seems to look a bit like Odie, but Brittney's fur is golden yellow, and her ears are dark brown. She has long black hair that reaches below her neck, and appears to have a heart-shaped marking with a blue star on her right thigh.
Her clothing consists of only a dark blue bandana, a blue wristband on her left arm, and an earring on her right ear.
Personality
Edit
Brittney is kind of an outdoor girl, and loves to go on hikes. She is BFFs with Lindsay Kitten.
Ad blocker interference detected!
Wikia is a free-to-use site that makes money from advertising. We have a modified experience for viewers using ad blockers

Wikia is not accessible if you've made further modifications. Remove the custom ad blocker rule(s) and the page will load as expected.