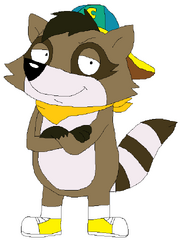 Champ is a young male raccoon who is the older brother of
Pinch Raccoon
and Scootch Raccoon, as well as the cousin to Ricky Raccoon. He first appears in
The New Adventures of PB&J Otter
, but he also occasionally appears in ToonWorld.
Champ is a PB&J Otter OC created by JustinandDennis.
Appearance
Edit
Champ has brown fur, like a real raccoon, but he also has rather messy dark brown hair. He usually wears a green backwards cap and yellow sneakers.
Personality
Edit
Champ is very athletic, and loves to play sports. He is often seen playing with Peanut Otter, Munchy Beaver and Flick Duck. Champ also cares very much for his younger siblings, and will defend them if he has to.
Other Info
Edit
Age: 7
Species: Raccoon
Gender: Male
Hometown: Lake Hoohaw
Friends: Peanut Otter, Munchy Beaver, Flick Duck, Justin Puppy, and Timothy Raccoon
Siblings: Pinch Raccoon (sister) and Scootch Raccoon (brother)
Unlike the other raccoon characters in Lake Hoohaw, Champ actually has dark markings on his hands and feet.