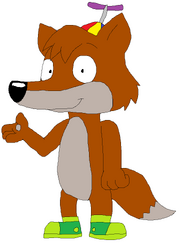 Dibsy is a young 7-year old male fox who first appeared in
The New Adventures of PB&J Otter,
and is the best friend of
Cody Otter
. His parents are James Fox and Daisy Fox.
Dibsy is a PB&J Otter OC created by JustinandDennis.
Appearance
Edit
Dibsy has orange fur with pale tan fur on his muzzle and belly. He wears a multi-colored beanie, and green shoes with lime green socks.
Personality
Edit
Dibsy is a very shy fox, so it is not easy for him to meet new people. He is also quite clumsy, and tends to trip on random things when he isn't paying attention (but he doesn't crash into things like Scootch). Dibsy is best friends with Cody Otter, like how Pinch is best friends with Jelly. Despite his shyness, Dibsy does like to do fun things once in a while. Dibsy is also sort of a kleptomaniac, in which he occasionally forgets to give back things that he borrows from people.
Other Info
Edit
Full Name: Diondray "Dibsy" Fox
Species: Red Fox
Gender: Male
Age: 7
Parents: James Fox (father), and Daisy Fox
Other Relatives: Doctor Molar Fox (aunt)
Friends: Cody Otter (best friend), Pinch Raccoon, Wilma Woodchuck, Munchy Beaver, PB&J Otter, Champ Raccoon, Lewis Snootie, and Flick Duck (sometimes).
Enemies: Snaggle Croc, Randy Rabbit, Ootsie & Bootsie Snootie (usually), and Flick Duck (sometimes)
Likes: Playing with his friends, lollipops, his colorful beanie, being with Cody, babbleberry pies (his favorite treat), dancing, his loving parents, visiting his aunt Molar Fox, getting hugs, Bucky Spacebeaver (Dibsy idolizes him, just like Peanut and Munchy), and whistling.
Dislikes/Hates: His clumsiness, forgetting to give back things he borrowed, the Snooties being snobbish, tripping over things, getting pranked or teased by Flick, having nightmares, lightning (he has astraphobia), and getting hurt.
Super Form: Vulpin Boy
Favorite Song: "Owner of a Lonely Heart" by Yes
Dibsy was originally a Hanna-Barbara-style wolf, but J&D later redesigned him in 2018 as a Jim Jinkins-style fox.