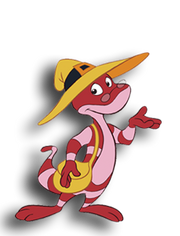 Doc Croc is a cartoon lizard who first appeared as one of the two main protagonists of Simsala Grimm, the other being
Yoyo (Simsala Grimm)
.
In J&D's ToonWorld, Doc Croc is an ally of Justin Puppy and The S.A.F.T Squad. He always fights for good.
Appearance
Edit
Doc Croc is a red lizard with pink stripes. He wears glasses, a yellow hat, and always has a yellow bag with him.
Personality
Edit
Doc Croc is kind and smart, and also a bookworm. Because he is a philosopher, he often talks too much, and can get lost in his actions, but it's usually for a good reason.
When Doc Croc introduces himself, he says: "I am... Croc, Doc Croc. Scientist, philosopher, virtuoso..." But before he finishes, he's usually interrupted by Yoyo or by something happening.
Both Doc Croc and Yoyo often argue as Yoyo is brave and willing, but unwise, and Doc Croc is sometimes overcautious, yet smart.
Doc Croc sometimes likes to help out Lenny Kangaroo with his inventions.