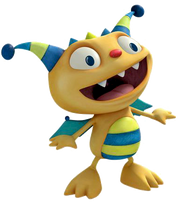 Henry Hugglemonster is a cute 6-year old monster who is the titular character of the Disney Junior show "Henry Hugglemonster". He is voiced by Lara Jill Miller.
In ToonWorld, he occasionally makes appearances as a background character.
In the Toontown Unleashed movie series, Henry is one of Justin Puppy's friends.
Personality
Edit
Henry is very fun-loving and is more of an idealistic character. Whenever there is problem, Henry is always there to solve it. He might also point out to someone how someone else feels.
Henry likes to roar and his roar is what makes him "Henry Hugglemonster". His favorite sport is huggleball, a game similar to soccer except that it is legal to carry the ball into the goal.
When things go wrong and Henry is under pressure or can't think straight with many noises, he needs a "Hugglebreak" which he flies up, clears his head and flies down to make things right.
When there is someone who's sad or upset, Henry will cheer them up to make them feel better.
Henry has a standard catchphrase he uses called, "Roarsome", when he finds something exciting.
Appearance
Edit
Henry is a small and slender yellow Hugglemonster with blue eyes, a red nose, blue-and-green striped horns with blue bobbles, blue and green spikes on his head, a blue-and-green striped belly and blue wings.