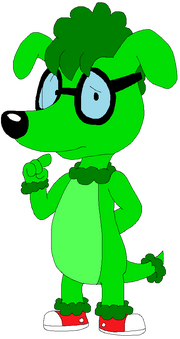 Lewie Snootie is a young male poodle who is the younger brother of Ootsie and Bootsie Snootie. He first appears in
The New Adventures of PB&J Otter
, but he also occasionally appears in ToonWorld.
Lewie is a PB&J Otter OC created by JustinandDennis.
Appearance
Edit
Lewis is a green poodle with dark green hair, and a light green belly. He has four fingers and three toes. Lewis usually wears red sneakers, and he is never seen without his round-framed glasses on, because he is near-sighted and needs glasses to see clearly.
Personality
Edit
Lewis is very neurotic and cowardly, but he isn't snobbish at all, like the rest of his family. He's nervous most of the time, mainly due to Ootsie and Bootsie frequently teasing him. So, since Lewis feels like he doesn't fit in with his snobbish family, he likes to play with the other kids of Lake Hoohaw.
Other Info
Edit
Full Name: Lewis Harvey Snootie
Species: Poodle (Dog)
Gender: Male
Age: 5
Parents: Edouard Snootie (father), and Georgina Snootie (mother).
Siblings: Ootsie (brother), and Bootsie (sister)
Friends: Pinch Raccoon, Champ Raccoon, Cody Otter, PB&J Otter, Dibsy Fox, Munchy Beaver, Wilma Woodchuck, and Flick Duck (sometimes),
Enemies: Flick Duck (sometimes), and his own siblings (usually).
Likes: His friends, rock skipping (an activity he does when visiting the lake), reading books, Bucky Spacebeaver (he idolizes Bucky just like Peanut and Munchy), and the color green.
Dislikes/Hates: Being teased by his older siblings, scary things, loneliness, getting in trouble, dark places, having nightmares, and losing his glasses.
Favorite Song: "Dust in the Wind" by Kansas
According to J&D, Lewis may be similar to Shifty Dingo from The Adventures of Blinky Bill.