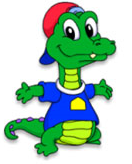 Ollie is a young alligator, and a character from the School Zone Interactive games. He is known for appearing in the "On-Track Math" software series, including "Time, Money, and Fractions", yet not many people recognize him. Ollie is known to be friends with Frankie the Dog, Reader Rabbit, Tad, and Freddi Fish, as well as some of the School Zone Interactive characters.
Appearance
Edit
Ollie has green scales, with lime green scales on his belly, and purple spikes on his tail. His clothing consists of a red backwards-facing baseball cap, and a purple t-shirt with a white collar and a yellow pentagon-like shape in the center.
Ad blocker interference detected!
Wikia is a free-to-use site that makes money from advertising. We have a modified experience for viewers using ad blockers

Wikia is not accessible if you've made further modifications. Remove the custom ad blocker rule(s) and the page will load as expected.